Product Updates
Boo! Here's What's New at Decisions this October
We've updated features for the Decisions app! Read all about how we're making meetings even more accessible.
---
Another month, another batch of excitement from your favourite meeting management software company Decisions!
Decisions has had a busy month evolving our toolbox of features to cater to our customers' needs. Read about our product updates and how we became ISO 27001:2013 certified - and what that means! Spoiler alert: it means business as usual has been good over here.
Let's dive in, shall we?
Introducing

Search for Decisions

 
You asked for it and now it's here!
Looking for that report from last week's strategy meeting? Can't for the life of you remember what the sales portion of your meeting was about? No worries. You can now search for everything Decisions meeting-related right  in Decisions.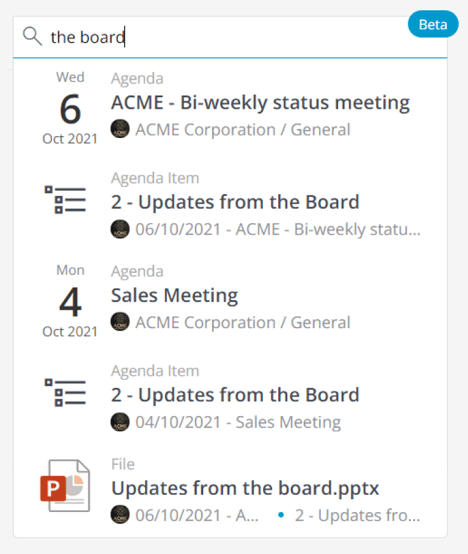 Now, you can search for: 
Meeting agendas

 

Agenda items

 

Attached files

 

Meeting minutes

 

And more to come! 

 

Reminder: If you haven't pinned Decisions to the left of your Teams' screen already, now is the perfect time to do it. Learn how here.

It's that easy. Happy searching!  
Voting with comments
One of Decisions' stand-out premium features has always been its secure Vote Now capability that allows meeting attendees to securely vote on important matters during meetings. However, now Decisions has enhanced that feature so voters can add comments along with their votes.
For example, if a member wants to vote yes, but also wants to add a suggestion or a condition that goes along with his or her "yes" vote there is now a small comment box that allows for such comments. Even if the voters simply want to justify their vote, they now have the space to do that, like in this example: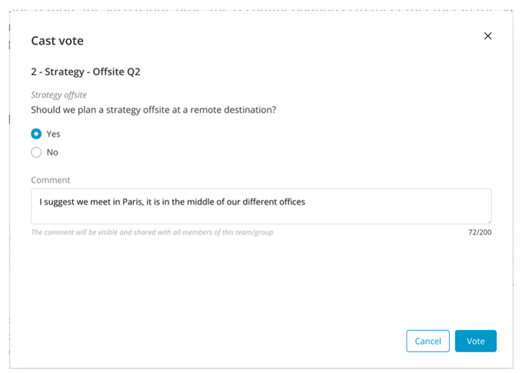 In this example, the voter suggests they meet in Paris, which obviously, is probably the best suggestion the group had.
Download the Decisions Mobile App Now
Keep Your Meetings Moving, No Matter Where You Go
---
Decisions Becomes  ISO 27001:2013 Certified

 
And as for Halloween approaching, there's definitely nothing scary about how Decisions handles data security.

It's business as usual at Decisions, which means our standard operating procedures regarding information security have recently become ISO 27001:2013 certified. The International Organization for Standardization (ISO), according to its Web site, "brings together experts to share knowledge and develop voluntary, consensus-based, market-relevant International Standards that support innovation and provide solutions to global challenges."   Simply put, the standards ISO looks for are internationally agreed-upon best practices in relevant fields, and the ISO 27001:2013 standard is the latest standard for information security. For Decisions, an app that integrates with Microsoft 365, the specific certification – ISO 27001:2013 – examined how we apply, maintain, and continuously improve our security systems. 

As many different types of organizations that manage information – such as hospitals, hotels, financial institutions – seek to become ISO 27001:2013 certified, it is important to point out that the certification process for Decisions was unique, as it is with every organization, and performed within the context of Decisions already existing protocols. Essentially, it was established that Decisions had implemented and was already running the best security systems for Decisions itself.  

What Systems Are Examined During the Certification Process? 
When one thinks of how a tech company measures its security, one likely tends to focus on data security. While naturally, this was a large part of what was examined during Decisions' ISO certification process, we were also examined holistically, and all security systems – even those that do not exist in the confines of a computer - were examined. These included: 

Employee security training 

Hardware security 

Office security 

Vendor security 

Storage of data 

Processes of hiring security experts for assessments 

And more. Decisions' operations met the specific requirements needed to become ISO 27001: 2013 certified. 
What Does Being ISO 27001:2013 Certified Mean for the Customer? 
As more and more threats to security loom online and real-world, peace of mind is paramount. Minimizing risk and maximizing customer trust is especially important for any company that manages data. By becoming ISO 27001: 2013 certified, Decisions joins the ranks of other elite companies such as Amazon, Apple, Microsoft, and many more with this certification. Going through the process just affirmed Decisions' commitment to security. Decisions has already aligned its practices with the General Data Protection Regulation (GDPR), another regulatory body. When a customer uses Decisions with their Microsoft suite, all customer data remains in the customer's suite – no customer meeting data is ever stored by Decisions.  
The Bottom Line?
With new features and with Decisions now ISO 27001:2013 certified, you have nothing to fear when it comes to your meeting software this Halloween. As for all the other things that go bump in the night? Well, we can't help you there! Stay safe and have a pleasantly scary spooky season!
---
Haven't tried Decisions yet? Click here to start your FREE trial today!
You'll be on your way to better meeting in no time!