Product Updates
Expanded voting options and additional January product updates
Meeting organizers can now give meeting participants the option to cast votes through email, creating an even more accessible decision-making process.
---
The team at Decisions considers the meeting process, down to the smallest detail, to improve the collaboration and productivity of your meetings.

We have released an exciting update to our secure voting feature: Meeting organizers can now give participants the option to cast votes via email. This is in addition to the current voting options – from the Teams chat or side panel, in the Teams channel or inside the Decisions web agenda. Vote by email is a beta feature available to all users with the "Voting" enabled inside Decisions. Add vote by email in your Decisions team settings and activate it from the "View Results" screen when issuing a vote.
New agenda dashboard filter
Users can now sort their agenda dashboard based on meetings for which they are the organizer. Simply select the "Show Organized by me" filter when sorting agendas.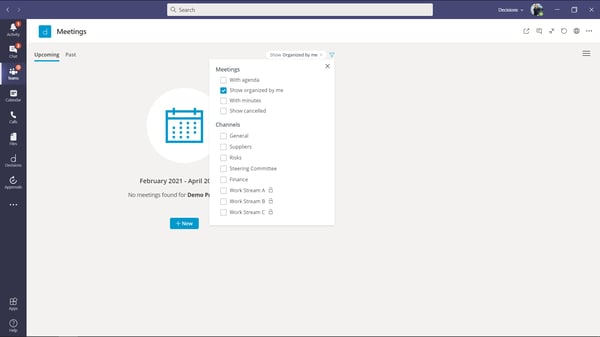 A new and improved agenda summary
Agenda topics and attachments were once added to the Meeting Book by default but now selecting the agenda summary option will not only add the agenda topics and attachments, but also topic descriptions and time stamps for a more complete view of the meeting.

Document update notifications
Decisions released a subtle notification element that highlights when a document has been changed (orange starburst) or added (blue starburst) to the agenda since a visitor's last session. This small attention to detail is another way for participants to better prepare for meetings, because they can quickly see when new materials are ready for review. The visual cue will remain visible for three hours after a user's latest view.

Share minutes for review from within Teams
Now, meeting organizers can share the Microsoft Word minutes for review from within the agenda window in Teams, in addition to the Word side panel. They can be sent to more than one person or published to the Teams channel.

Save OneNote minutes as a PDF
You can now finalize OneNote minutes as a PDF that attaches to the meeting agenda, instead of a link to them in SharePoint.

Recent Releases
In case you missed them, here are exciting updates that were recently announced.

Meetings by Decisions for Android and iOS
An easy-to-navigate mobile app experience with all your meeting information in one place. Read more

Manage guest meeting presenters
Meeting organizers no longer need to manually create and update meeting invites for guest presenters. Decisions sends calendar invitations to all guest presenters with their topic details included once the agenda is published, and if there is a change, the calendar invite is updated and sent again automatically. Read more
---
---
Are you ready to access all of these great features and more?
Get Decisions from Microsoft AppSource today.