Today, Decisions releases an update to boost how customers can use OneNote for more successful meetings.
Meeting participants access the Decisions' dynamic agenda to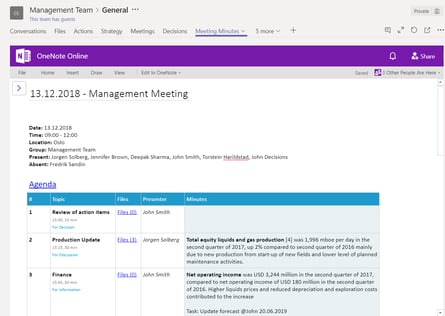 submit topics, upload files and collaborate on the meeting agenda with ease. Decisions for OneNote
automatically imports the agenda into a meeting minutes template, with the relevant information held
within the group's shared notebook for easy note-taking and tracking.
This allows team members to co-edit the OneNote page with notes prior to and during the
meeting.
Today's announcement furthers the OneNote integration with these enhancements:
Agenda Management: The agenda updates immediately, while preserving the existing meeting notes, when topics are added, removed or reordered.
Execute Tasks and Outcomes: Decisions recognizes and picks up tasks and decisions from the meeting minutes and syncs them within Microsoft Planner. Team members can manage their deliverables and outputs to keep initiatives on track.
Get Started Now
Create meeting minutes in OneNote
If you haven't already, download Decisions Meeting Secretary for Microsoft Office 365.