Customer Stories
Decisions Brings Metaphase Lighting's Microsoft Suite All Together
Decisions couldn't be happier to light the way, so to speak, for better meetings for Metaphase Lighting Technologies.
---
When a company has as many intricate operational parts as Metaphase Lighting Technologies does, it's vital that all team members are on the same page. Having enlightening meetings, and driving more efficiency out of each meeting, is therefore critical to their success.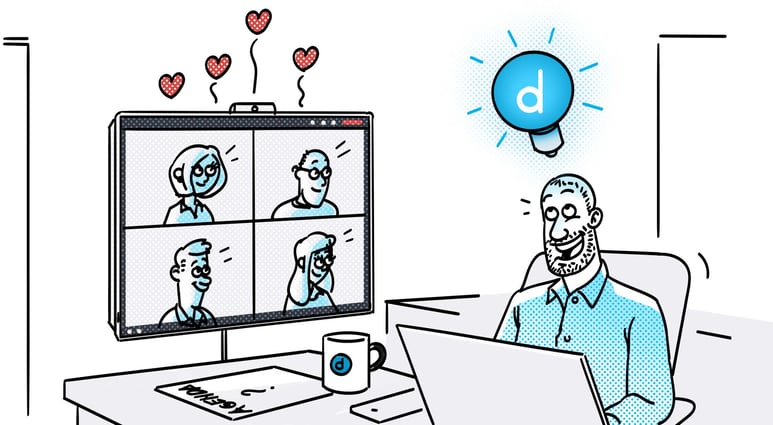 And when it came to adding value to their meetings through efficiency, Decisions and Metaphase have proved to be a perfect match. The results speak for themselves: after adding Decisions to their arsenal of tools, Metaphase as a whole released two times the number of products in a span of three months — a previously unheard of speed for the roughly 60-person company.
But what is Metaphase, what do they do, and how did Decisions help them get to releasing more products faster?

The Client: Metaphase Lighting Technologies
As a world leader in machine vision and specialty lighting technology, Metaphase impacts critical parts of the supply chain across industries from pharmaceuticals to agriculture, keeping risk out of these critical ecosystems and away from our medications and dinner tables.
Their lighting technology range from infrared wavelengths, visible, UV, IR, and SWIR (short-wave infrared) – all forms and factors. Wherever inspection is needed, Metaphase lights are there. Need the correct light to examine auto parts? Metaphase has it.

The approximately 60-person company operates globally, but builds and engineers its products in-house in Bristol, Pennsylvania.

The Problem: Inconsistent Meeting Quality


When Paul Proios, Head of Product Management, joined Metaphase, he noticed the quality of meetings was inconsistent. In some recurring meetings, for example, he would find team members who were barely talking. In all-company meetings, Proios discovered a lack of focus, and found himself asking how he could save time on meeting preparation, clarify meeting goals, link departments more effectively, and – as an avid user of Microsoft Teams – better take advantage of the investment the company had made into the Microsoft suite.

---


I was coming on to look at the product lines and some processes.
My focus was How can we save people time?

We're a business that sells. We're business to business. So especially with salespeople, every minute they're in a meeting is a minute that they are not selling for the company. That is the lifeblood of the company. So, I was looking to make some efficiency changes and make sure everyone's time was utilized best, where meetings were very efficient, and eliminate stuff we didn't need to spend time on in the meeting itself.
---
When Proios was introduced to Decisions by the president of the company, the potential value shone through quickly.
The Solution: Bringing the Microsoft suite together for better meetings


When he started using Decisions, Proios couldn't believe the time he saved prepping for meetings, creating agendas, publishing minutes and syncing tasks to Microsoft Planner. The way Decisions brought all the functionalities of his existing Microsoft suite together seemed almost too good to be true.

---


I found Decisions really linked everything well together. I use the agenda, I publish it. Then it goes into the Teams meeting. Then when I publish the meeting minutes, that goes into SharePoint. Then anything I put for a task automatically syncs to Planner.

Planner emails out tasks assigned in meetings instantly to people to remind them what they're responsible for. So, it lets me use all the Microsoft Office suite. I would put things on my OneDrive and share it. It's just seamlessly shared. It's all categorized.
---
The time, each day, that Proios gained back added up quickly — even before his meetings began. Where he used to spend 20 minutes prepping an agenda, now he could prepare an entire agenda in five minutes, send out meeting minutes in another five — savings that he estimated added up to 30 minutes in prep time for single meeting.


For a major recurring meeting, I would say it could save easily two to four hours per week on prep. I take that for preparing for the agenda, writing up the meeting minutes, going back and checking on tasks, how to document it.
I've gone back and we were talking about something and it's like, 'I remember talking about this in a meeting.' I'd go through all the notes and look. Now, I can search through the tasks easily. Because when they're completed, they're all compiled and centralized there. When you look at all of that, it becomes a huge time saver.
To Sum It Up
For Paul at Metaphase, Decisions was the natural extension to all the Microsoft features he already used. It was the missing link that brought it all together.

"Decisions feels native to Microsoft Teams. I think it's brilliant in its simplicity. It's not overwhelming at all with the feel. Everything that you want is right there."
Where to Find Metaphase Lighting Technologies


You can read all about Metaphase's latest ventures at their site Home - Metaphase Technologies or keep up with them at Linkedin! Stay lit!
---
Haven't tried Decisions yet? Click here to start your FREE trial today!
You'll be on your way to better meetings in no time!