Product Updates
New Decisions Features –  Managing  Your Meetings Just Got Easier 
More updates from the Decisions team! Manage your meetings with even more ease!
---
Edit meetings from your phone, simplify your workflow by outsourcing agenda-building capabilities, send the perfect Guest Presenter invitation and so much more. Decisions have got you covered with our growing line-up of new features.



Decisions Mobile Magic
Now, more than ever, software solutions need to keep up with us on the go – whether that's on a flight, a train, or simply at home where we might not have immediate access to our computers. It's important that our mobile apps mirror the same functionalities we've come to appreciate on our desktop, or quite frankly, they just aren't keeping up with the global, modern workforce which never sleeps.
With the Decisions' mobile app, you've always been able to create your perfect agenda on the fly, but our latest mobile update is a big upgrade for accommodating a workforce that moves as fast as we text.
We are thrilled to present with our newest app upgrade, not only can Decisions' mobile users create agendas, but now edit, re-order agenda items and annotate directly into the main Meeting Book all from your phone or tablet.
Flying overnight internationally to that business meeting and need to rearrange the agenda? Don't pull your laptop out from the overhead compartment – all you need is your phone!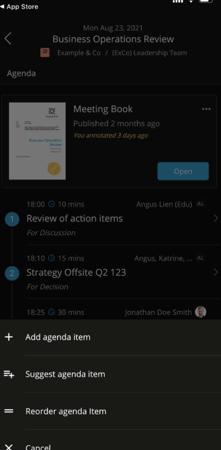 Download the Decisions app for iOS here and Android here
---
Simplify Your Workflow
Nothing slows down an organization's workflow faster than constantly waiting for permissions or approvals from higher-ups (especially when you already know these permissions will be granted). This can be frustrating and costly to a company when, for example, an executive assistant needs to set an agenda for their boss's meeting but also needs to be granted access to their calendar.
Decisions latest feature allows your Decisions Admin, which may be your IT manager, to grant an employee access in perpetuity (until otherwise revoked) to another's calendar. Once an employee is synced into, for example, their CEO's calendar, they can consistently build agendas for their CEO's meetings without constantly bothering them, saving frustration on both ends. For example, your boss might not even see the request for access in his or her email, but asking the Decisions Admin will streamline the process. This Decisions' function links their calendars together seamlessly in Outlook and Teams.

And this feature doesn't just apply to the C-suites and their assistants. The agenda-permission component works just as well laterally, as the Decisions Admin can permanently grant access to agenda-making capabilities to any other user. It's also possible to request access to another team member's calendar to create agendas and all the Decisions Admin needs to do is click once to grant this access. This could include employees with shared calendars or team members on the same distribution list – all using the Microsoft Booking app and Outlook. Stop asking for permission and start building agendas for your team today (or start delegating and get those agendas made - it's up to you!) 


Haven't enabled Decisions for easy calendar sharing yet? Click here to download Decisions and start streamlining your workflow today!

---
Get Techy With It
For customers that want to extend the Decisions functionality with custom workflows or automated exporting, we have now released the functionality you need. Decisions now  supports API Integration (MeetingInfo.json), which have all the identifiers you need to build your own integration (see details here). 
This can be used with Microsoft Power Automate or your own scripts, and for example, automatically archive Meeting Book or Meeting Minutes into a different system. 

This will be available for customers that request this functionality to be enabled, please contact support@meetingdecisions.com for assistance.   
---
Have Full Control of Guest Presenters Invites
If you're like the team at Decisions, you're probably a perfectionist, especially when sending out emails – or invites – to a group of people. With Decisions new Admin Portal Update, you can be CC-ed on every meeting invite you send to Guest Presenters so you can double, triple and quadruple check it to ensure it's exactly as you intended. Take the out of the unknown. You will receive the same meeting invite that your Guest Presenter(s) receive – so if there's any sort of error you can catch it immediately.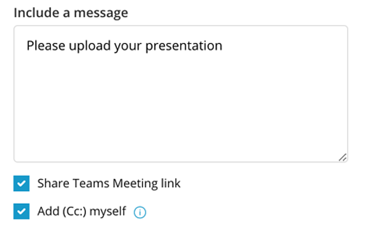 ---
Navigation Celebration
We understand software solutions can sometimes be daunting to learn and that's why we strive to make Decisions' the most user-friendly meeting solution on the market.
Decisions is always working on our Customer UX and we've made a few tweaks to help you navigate our interface. 
For example, in Teams and in our online portal, the agenda screen has been enhanced for your viewing pleasure and logical ease of use. Your agenda will now appear centered, adapt better to different screen sizes, which will make it appear clearer, more appealing, and cleaner (see below). It's the little things, isn't it?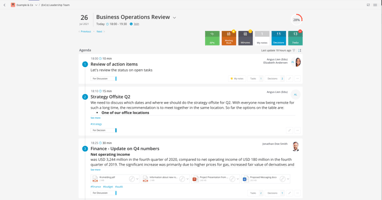 Speaking of the little things, we've also updated how you move around your Decisions menu. We've placed a "back" button internally within the app for better navigation (you don't have to leave the app) and made clearer menu and setting options at the top right for more intuitive clicking. It's uniform now. I'm telling you: it is the little things.
Looking toward the future (as we always are), keep your eyes peeled for Decisions' next rollout: a search bar that will stay pinned to the top of your agenda screen, allowing users to easily find topics mentioned in past meetings which means less scrolling and less searching. Essentially, we want to save you time because we love saving time. We are always working to make your Decisions' experience more flawless.  
---
New Tools to Manage Decisions
At Decisions, we know how important it is to keep it concise when implementing and managing software. Everything needs to be manageable and centralized. This is why we've created the Admin Portal for your Decisions Admin to manage key elements in one easy-to-find place.
In the Admin Portal, your Decisions Admin – who could be your IT manager or another chosen professional – can grant access to any Team who wants to use or would benefit from using Decisions. It's as quick as clicking a button, thereby granting them a life of more effective meetings. Like magic, right?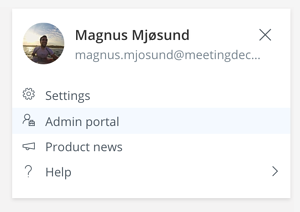 The admin portal can be accessed through Teams or here.  
---
Haven't tried Decisions yet? Click here to start your FREE trial today!
You'll be on your way to better meeting in no time!