Meeting Tips
Leverage Microsoft Teams for better meetings
Use Microsoft Teams for better meetings. Collaborate, host and follow-up on outcomes, like tasks and decisions.
---
Microsoft Teams is the hub for team collaboration in Office 365. It integrates the people, content and tools a team needs to be more engaged and effective. Here are three ways to leverage Teams for more successful meetings.
1. Agenda Collaboration
Leverage Teams to collaborate on the agenda and eliminate email back and forth. Focus on meaningful topics and ensure you've notified participants who will be responsible for presenting. Decisions makes agenda collaboration even easier!

2. Host the Meeting in Teams
For remote meetings and those with external participants, leverage Teams for video- and audio-conferencing. As Microsoft brings Skype for Business capabilities into Microsoft Teams, they are rapidly enabling you to host and participate in more productive meetings. Read more from Microsoft.

3. Sync Meeting Outcomes to Microsoft Planner
Use a solution like Decisions to connect Teams and Microsoft Planner so you can easily and quickly see meeting tasks and outcomes for follow-up and tracking. This allows Group members to see tasks assigned to them and what the group collectively needs to accomplish before the next one.

Decisions for Microsoft Teams
Last year, Decisions announced an add-in for Teams that allows you to easily view upcoming meetings and agendas, recent meeting notes and past meeting outcomes. It eliminates the need to search Outlook to remember when your Group last met or scour emails for meeting notes. Later this year, users of Decisions will be able to discuss agenda topics in Teams and import them directly into a meeting-ready agenda!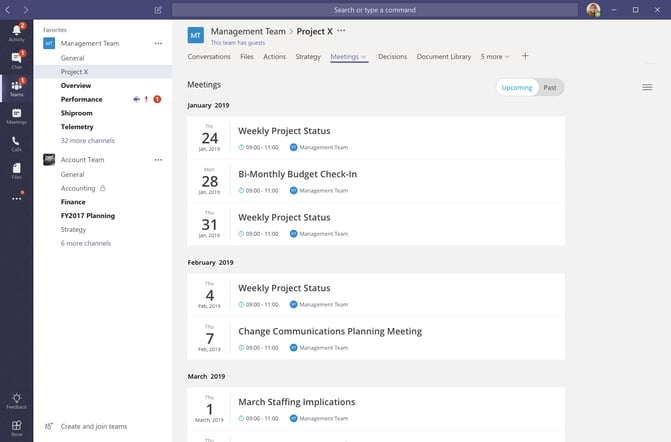 Enabling better meetings takes more than a tool. It requires a solution that shifts meeting culture. With agenda collaboration, the Meeting Engagement Score™ and smart minutes-taking, Decisions makes meetings successful. Download Decisions for Microsoft Teams or Meeting Secretary for Outlook in AppSource today.