For Public Sector & Government
Meeting and Agenda Management for Government and Public Sector
Decisions is a meeting solution that allows public sector organizations to run successful meetings directly from Microsoft Teams.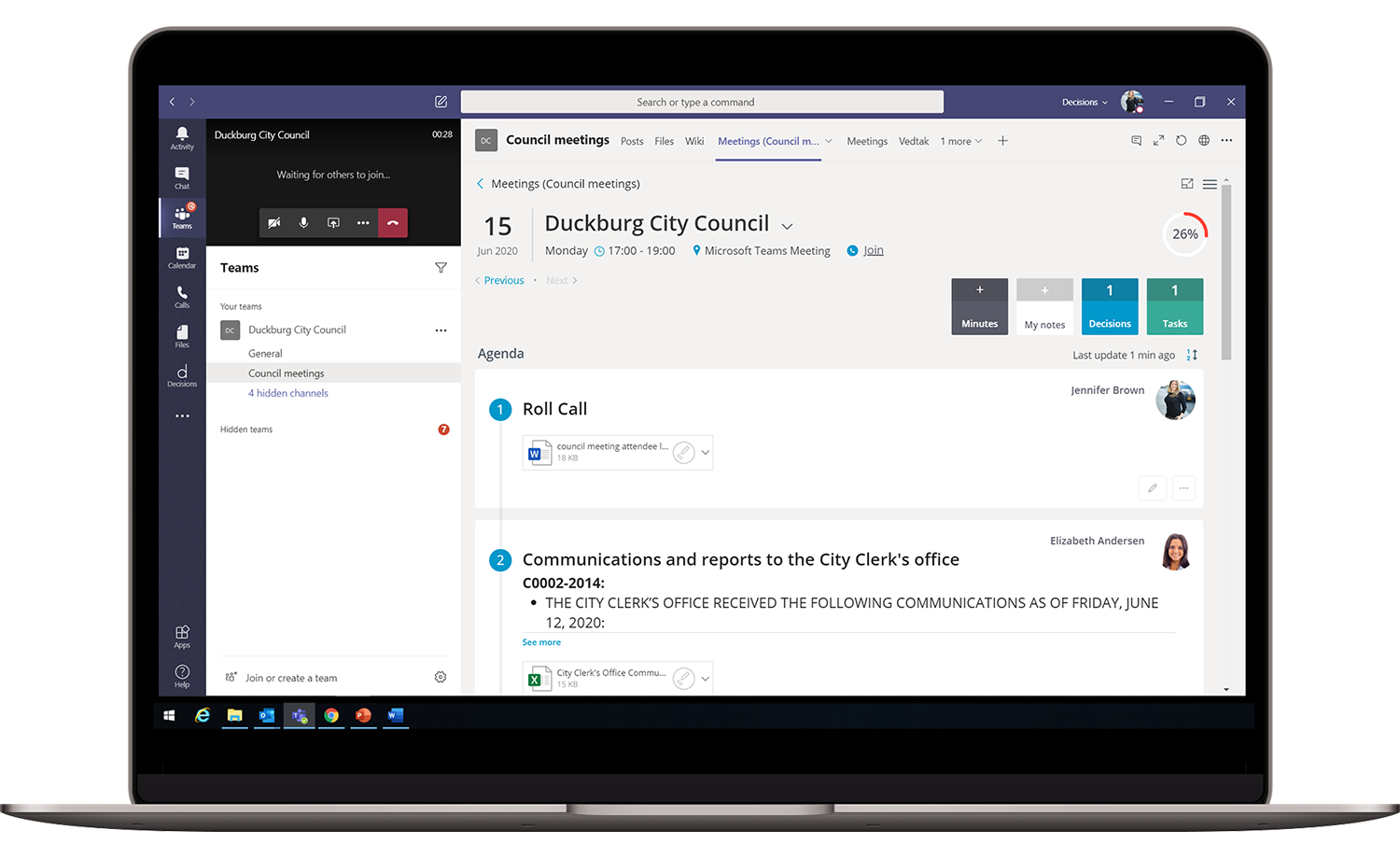 Secure Voting for Public Meetings in Microsoft Teams
With Vote Now from Decisions, public sector and government organizations can run official voting directly from Microsoft Teams through a secure and orderly process.
An Organized Speaker List for Microsoft Teams Meetings
During in-person meetings, informal and non-verbal cues keep people from talking over one another. That's much more difficult in virtual meetings. Speak Now builds on the "virtual hand raise" with an ordered speaker list, and allowances for short remarks to the current speaker and requests for recess.
Start your free trial of Decisions
Get 14 days to explore all our meeting management tools, including our agenda builder, collaboration tools, one-click meeting minutes and meeting book, Meeting Engagement Score™️ and more!
The Meeting Features You Need
Decisions offers a solution to improve meeting value for your organization, leveraging the Office 365 investment you've already made.

Integration
Decisions seamlessly integrates into Office 365 so you don't need to invest in a separate platform.

Save Time
30 percent reduction in time spent coordinating meetings with Decisions.

Agenda Builder
Create structured, collaborative agendas in Teams or Outlook. Participants can upload files, suggest topics, ask questions and leave comments.

Meeting Book
Consolidate the agenda and attachments into a single PDF document that can be shared with meeting participants.

Preparation
Decisions creates a process for planning and running meetings so attendees come prepared for discussions.

Time Tracker
A visual cue tracks agenda items based on their allotted time to keep meetings on schedule.

Speaker List
Speak Now for Teams is more than a "virtual hand raise." It builds an ordered speaker list that allows for rejoinders and requests for recess.

Vote Now
Run official voting directly from Microsoft Teams through a secure and orderly process.
"I spent 20 years at Intel, where conducting 'Effective Meetings' was a company value everyone was expected to follow.

As Andy Grove (Intel's most famous CEO) often said: "If you're going to take everyone's time to hold a meeting, you owe it to the company to conduct the meeting effectively." Andy is no longer with us, sadly, but if he was, I know he'd be singing the praises of Meeting Decisions. It's exactly what's needed to conduct truly effective meetings in the Modern work environment."

"I like the ability to store the agenda in a [Microsoft] Teams channel. It makes retrieving meeting archives fast and easy. Not only can you store the meeting agenda, but you can store minutes, decisions, and tasks there also to make referring back to a meeting a breeze. The software solves the lack of transparency with meeting discussions for our organization. Further, it allows everyone to remain on the same page as to what was discussed while keeping the meeting flowing in a succinct fashion."

"The Decisions team is amazing. They provided informational training sessions on how to use all the features of the app. I love being able to add the Decisions app directly into my team's channel and use the different features. My team has really enjoyed learning new ways to grow our team's channel and collaborate virtually."

"Best meeting tool out there ... the integrated speaker lists even on their own have singlehandedly transformed our virtual and face-to-face meetings. Decisions enables us to have productive meetings. Especially as a student-driven non-profit, time is at a premium, so we need to have the right tolls at our hands"
Get a guided tour of Decisions!
We find that users value talking to one of our meeting productivity experts to help walk you through all of Decisions great features. Fill out the form below to request a quick demo and we'll be happy to schedule one!