Extending Office 365
The Meeting Management Tool that integrates with Microsoft Teams, Outlook 365, OneNote, Word or Planner
Whether your organization's workflow depends on Microsoft Teams, Outlook, OneNote, Word or Planner, Decisions will make your meetings better through increased collaboration, engagement and productivity.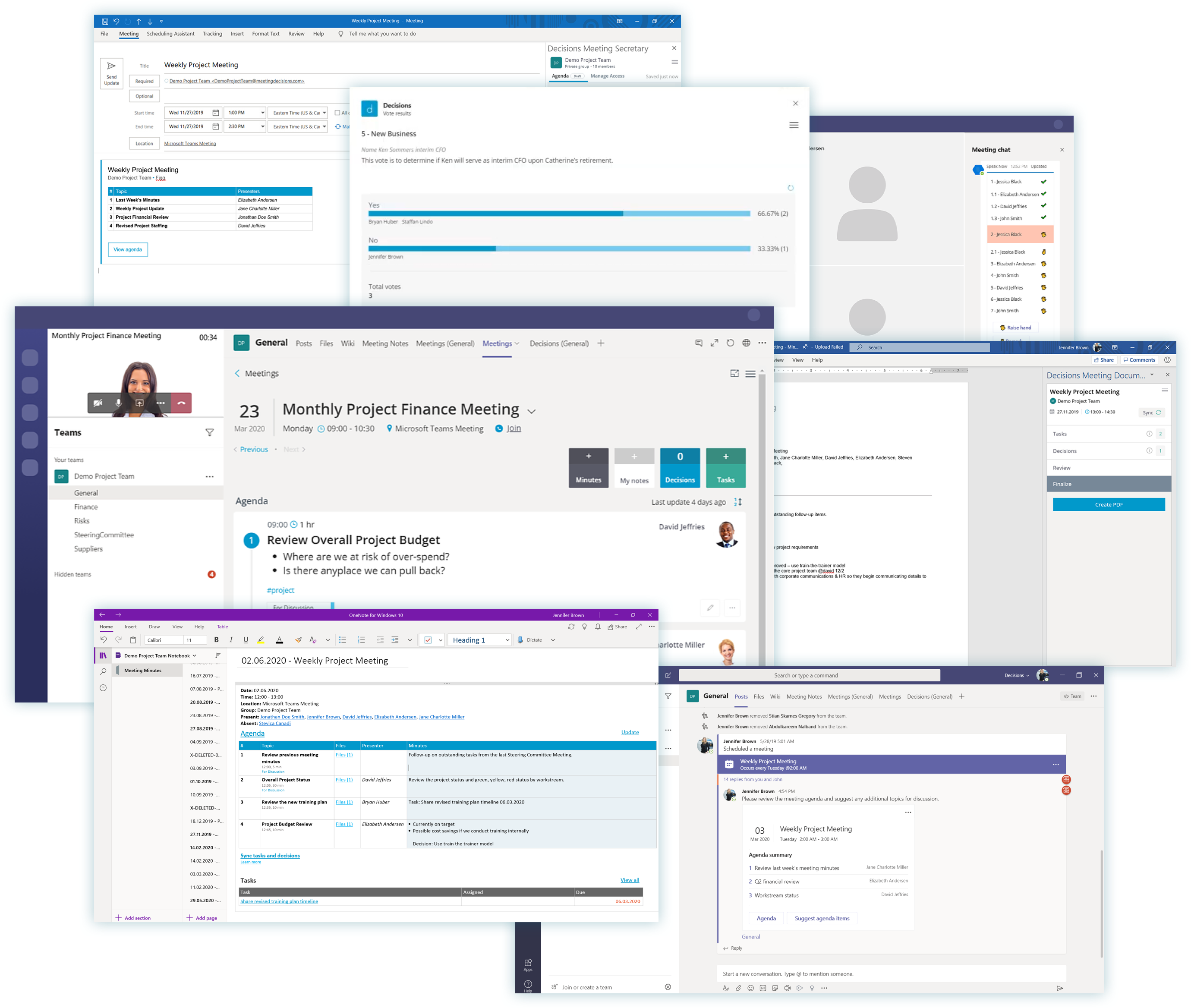 Decisions for Microsoft Teams
Extend Microsoft Teams with Decisions for an easy-to-use use, powerful solution for meeting management.

Great app for managing projects. The integration with Teams, Planner, One Note and Word is great! I manage multiple projects in Teams so with the app assigning tasks automatically from the minutes, it saves me time and reduces admin after customer meetings.

All-inclusive digital meeting platform. I have worked on digitizing meeting processes the last 5 years in several large companies. Initially I was hesitant using MS Teams as platform, but with the implementation of Decisions-apps, all process steps are supported in one platform... outstanding!

Excellent integration and use of in Teams. This app is well integrated, feels nearly like a native part of Teams. The built in guides makes it is very easy to get started with meeting preparations, performing-, and follow up meetings. It makes good use of OneNote and Planner for notes and meeting actions.
Decisions Meeting Secretary for Outlook
Decisions Meeting Secretary allows you to plan and organize successful meetings right from Outlook.

Love it, really boost productivity. I would only love to have the full version included on the base version of Microsoft.

Meeting Management made easy.A great app for teams. Implemented within our company works fantastic within the Teams environment. Seamless integration with the online toolset. Brings all your meetings together into a framework that works.

FANTASTIC APP. This app made it so easy to have an agenda and minutes all in the same place, and the integration with MS Teams is a huge plus.
Start your free trial of Decisions
Get 14 days to explore all our meeting management tools, including our agenda builder, collaboration tools, one-click meeting minutes and meeting book, Meeting Engagement Score™️ and more!