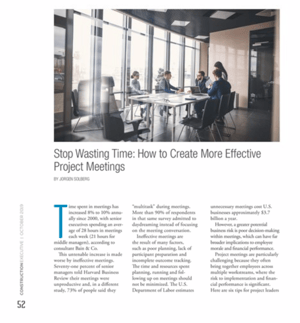 The untenable increase in meeting volume is made worse by ineffective meetings. Seventy-one percent of senior managers told Harvard Business Review their meetings were unproductive and, in a different study, 73 percent of people said they "multitask" during meetings. More than 90 percent of respondents in that same survey admitted to daydreaming instead of focusing on the meeting conversation.

Ineffective meetings are the result of many factors, such as poor planning, lack of participant preparation and incomplete outcome tracking. The time and resources spent planning, running and following up on meetings should not be minimized.
The greater potential business risk to bad meetings is poor decision-making within meetings, which can have far broader implications to employee morale and financial performance. Project meetings are particularly challenging because they often bring together employees across multiple workstreams, where the risk to implementation and financial performance is significant. Follow the link below for six tips for project leaders looking to organize more successful meetings.
Continue reading at Construction Executive
Download Decisions from AppSource today
See for yourself how Decisions can transform project management within your organization.