This article is the first in a series where we'll introduce you to the team behind Decisions, helping your company plan, organize and run more effective meetings.
Meet Deepak Sharma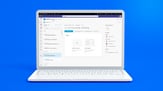 Deepak has been with Decisions since the beginning – he was one of the first employees! As R&D manager, he makes Decisions work for customers. Quality assurance is part of his DNA and he builds products that are secure, scalable and useful. Deepak came to Decisions from Software Innovation, where he was the principal technical lead. He says about his field, "We build products that make peoples' lives better and there is nothing more rewarding than that." Despite numerous follow-ups, Deepak was unable to name just one favorite thing about working at Decisions. He cites the product, open culture and close-knit team as top reasons he loves coming to work each day. When not at Decisions, he spends time with his two children and likes to cook.
Meet Oda Randmæl
Oda is a founding member of the marketing team. She was among the first to tell the story of Decisions to broader audiences through digital marketing and paid media. Oda embraces the advocacy to change meeting culture at companies across the globe! A writer by passion, Oda came to Decisions immediately after earning her master's degree. In her words, "I love being part of company where I can work across a variety of marketing disciplines and have a direct impact on scaling the business." Oda enjoys her time with friends and family, and frequently attends boot camp classes. She's also the author of a wine blog celebrating her favorite region of Italy.